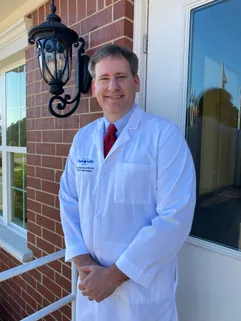 Dr. James Kent, DPM, MS
Dr. James Kent is a Native-Texan, born in Amarillo and raised in Texas. He is the son of a former school superintendent and decided early on to commit his life to education and medicine. He graduated from Rankin High School and from an early age he knew that he wanted to be involved in healthcare in some capacity. He is married to Geneva Kent, a Maternity Nurse at Arlington Memorial Hospital in Arlington, Texas. After graduating with honors from Rankin, he began college by attending Texas A&M University in College Station and graduated with a degree in biology and chemistry. During his time at A&M, he was very active in church, student government, and intramural sports. After graduating from A&M, he attended The University of Texas Health Science Center at San Antonio to work on a Master's degree in Biomedical Science. There at the UT Health Science Center he enrolled in the same courses with the medical students and worked in a colon cancer research lab. While at the health science center, he became interested in podiatric medicine. During this time, he finished his thesis and graduated with a master's degree. After his master's degree he was accepted and attended Des Moines University Medical School in Des Moines, Iowa . After graduation, Dr. Kent was accepted to Lourdes Hospital in New York for a three-year surgical residency program. Dr. Kent is a Fellow of the Academy of Minimally Invasive Foot and Ankle Surgery, AMIFAS. Dr. Kent is also an active member of the Whitehouse Church of Christ in Whitehouse, Texas. In his spare time, he loves woodworking, construction work, and spending time with his family.
Christin Nichol- Practice Administrator

Christin joined our team in February of 2019. She is in charge of daily operations for our facility and helps out where is needed to ensure the office runs smoothly. Christin is certified in Podiatric Radiology and currently handles our billing and claims. She graduated from Frankston High School and then joined the United States Air Force where she served for five years as a medic. While in the Air Force, she was stationed in Alaska and Florida and worked in many different clinics within the hospital. In her spare time, she loves chasing her 5-year-old son Stoney and spending time with her family.
Melissa Goodman- Medical Assistant

Melissa Joined our team in December of 2022. She is one of the first assistants you will see when you come into our office. Melissa helps by checking patients in/out, taking x-rays, and assisting Dr. Kent with what he may need. Melissa graduated from Grand Canyon University in 2017 with a Bachelor of Science degree.