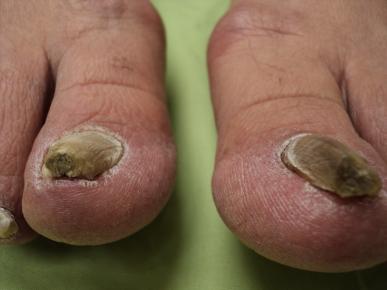 Onychomycosis is a fungal infection of the toenails or fingernails. Onychomycosis causes fingernails or toenails to thicken, discolor, disfigure, and split. At first, onychomycosis appears to be only a cosmetic concern. Without treatment, however, the toenails can become so thick that they press against the inside of the shoes, causing pressure, irritation, and pain. Fingernail infection may cause psychological, social, or employment-related problems.
Half of all nail disorders are caused by onychomycosis, and it is the most common nail disease in adults. Toenails are much more likely to be infected than fingernails. The incidence of onychomycosis has been increasing and is related to diabetes , a suppressed immune system, and increasing age. Adults, especially the elderly, are more likely to have onychomycosis than children.
Onychomycosis is divided into subtypes. The main subtypes of onychomycosis are distal lateral subungual (the area under the nail) onychomycosis (DLSO or DSO), white superficial onychomycosis (WSO), proximal subungual onychomycosis (PSO), endonyx onychomycosis (EO), and candidal onychomycosis. People with onychomycosis may have a combination of these subtypes. Total dystrophic onychomycosis is the term used to refer to the most advanced form of any subtype.